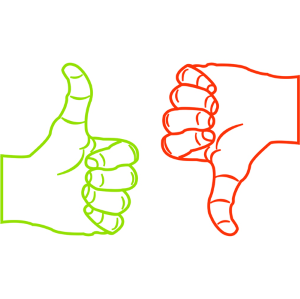 First of all, let's be clear – an affiliate is an online salesman, trying to convince his or her customers to buy products and services. An affiliate must be credible and convincing – his revenues depend on it. And, let's face it, the credibility of an affiliate depends a lot on the quality of the product and service he wants to sell.
If you plan to generate revenue off gambling affiliate programs, you need to be able to spot the bad apples in the basket – the bad products that can in the long run ruin your credibility, and your income as well. Let's see what are the signs of a bad casino, in our case, so that you'll keep your customers satisfied and your revenue stream intact.
0. Company details and license
One of the most important things to look for at an online casino is the company behind it. Serious operators will always list their company details on their casino websites, along with their license numbers and other contact details.
I have seen casinos with no indication whatsoever of their operator in their Terms and About pages. One of the casinos I have visited has a company name listed on its website, and the indication of a Curacao license, but when cross-checking with the Curacao Gaming Authority I found out that they haven't even heard of the company yet.
1. Bonuses
A bonus that looks too good to be true is usually too good to be true. The casino that offers its players a welcome bonus of hundreds of percent, up to thousands of dollars, is a sign of a desperate operator in urgent need of money, or even a scammer luring unsuspecting players and taking their money.
Let me ask you which casino looks more credible to you – one that offers a 250% welcome bonus of up to $2500 on your first four deposits, or one that offers you $700 on your first three?
2. Progressive jackpots
I don't think that there is a direct correlation between progressive jackpots and the credibility of a casino, but as far as I have seen, a casino that doesn't adhere to the progressive jackpot network of a developer (although the large wins offered by this type of games are one of the best marketing tool ever) is usually heavily criticized for its questionable actions and policies.
3. Payment methods and processing times
As far as I have seen, serious online casino operators don't sit on their players' money after a withdrawal was requested – except the initial security check that is mandatory, they only need a few hours or days for a payment to be done. Shorter payout times are usually an indicator of a serious online casino.
Other casinos have even controversial information in their general and payment Terms – for example, one casino states that it makes payments in 7 to 10 business days, and in the payment terms it lists that it limits its payouts to a certain amount in a week. 7 business days are over a calendar week to begin with… these controversial terms are usually an indicator of something fishy going on.
4. Translations, regional versions
Online casino operators serious about their business will target local audiences with offers tailored to their needs. Just as Digimedia, for example, which offers gamers the chance to play online pokies at the Australian casino, and the chance to play online slots for the rest of the world.
An online casino with no translations and no indications of regional offers might indicate either a beginner in the business, in the process of finding its audience online, or a website built in a hurry, with chances to disappear as fast as it has appeared…
These five signs I have observed and felt on my own skin. Do you know more? And would you be willing to share?
FREE WEBINAR
Tuesday, 7th April 2015, 4:00pm - 5:00pm BST
Seizing the Opportunities of the US Gaming Market: Offering a Digital Social Casino Experience
First instalment of a two-part webinar series hosted by Income Access and iGaming North America conference.
Register Here
Video Widget