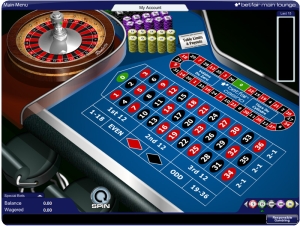 While roulette has evolved over the past 200 years to boast some rather unorthodox tables, the basic principles that make this game so popular remain the same as always.
Whether you're a staunch French roulette player, a fast-paced gamer on the mini tables or prefer the live experience when playing online, the online casino lounges offer gamers the chance to play loads of popular versions.
Many roulette players like to stick to one particular table and by far the must popular is French (European) or American. Both tables are headed by the mesmerising spinning wheel and wherever that little white ball lands there is a chance to win fortunes.
The table lay-out on these two popular roulette games are exactly the same other than the wheel's double nought on the American version.
Many first-time roulette players start out on these classic tables but soon the arcade casino isn't enough and often Roulette gamers jump across to the Live Casino, which is becoming an increasingly popular destination.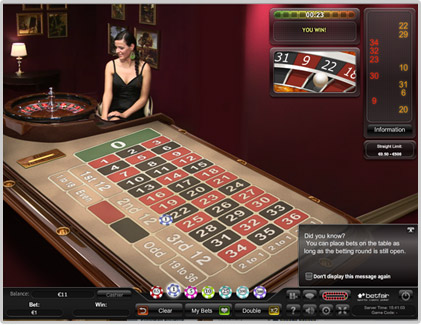 At a Live Casino you are hooked up to a television feed where one of most experienced croupiers is waiting for the bets to come in before spinning the wheel.
Live Roulette is the closest you can get to immersing yourself into the casino without going to the bother of travelling to an actual hall, meaning you can play and have fun directly from your own living room.
If the Live version isn't your thing but you still want that involving gaming experience then a popular version is 3D Roulette, which transforms the two-dimensional screen experience into a complete casino.
The 3D version plays the same as French or American, as do the Pro roulette tables that advanced gamers often flock to. The advantage of Pro roulette is the stakes and pay-outs are higher, and only serve to boost the entertainment and tension online.
For first-timers the best place to start is the classic boards and build up your understanding of the game. After that the lounge is yours to experiment with some of the world's most popular roulette games.
If you don't want to risk any money, play free roulette games first.
FREE WEBINAR
Tuesday, 7th April 2015, 4:00pm - 5:00pm BST
Seizing the Opportunities of the US Gaming Market: Offering a Digital Social Casino Experience
First instalment of a two-part webinar series hosted by Income Access and iGaming North America conference.
Register Here
Video Widget